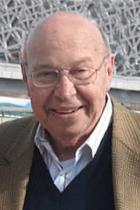 Born April 21, 1921 in Brooklyn, New York, Albert Kritzer was the son of immigrants Abraham and Augusta Kritzer. Her married Jacqueline Landry Hubert in 1957, and together they raised four daughters. He is survived by two sisters: Marilyn Shorenstein and Ruth Rhetts, three daughters: Germaine Koomen, Lisa Marie Gander, and Rachelle Kritzer Filipek and seven grandchildren: Emily and Elise Koomen, Everett and Celeste Gander, Claire, Matthew and Brian Filipek, and numerous beloved nieces and nephews. He was predeceased by spouse of 46 years Jacqueline Kritzer, daughter Annette Kritzer in whose memory he dedicated his scholarly work, brother Walter Kritzer, brother-in-law Joel Shorenstein, and sister-in-law Sylvia Kritzer Baumwald. After graduating from the College of William and Mary in 1948 with an AB in Economics, Krtizer earned a JD with distinction (Phi Kappa Phi, Order of the Coif) at Cornell Law School in 1951. He was admitted to the New York Bar (1952) and Bar of the United States Supreme Court (1955) and began his legal practice as a Judge Advocate, serving the US Air force in Japan after the Korean War. He practiced law with Donovan, Leisure Newton & Irvine in NYC and then, in a span stretching 25 years, was counsel to General Electric, including several positions in Major Appliances and International Sales Operations. In 1991 Kritzer joined Pace Law School, founding the Pace Institute of International Commercial Law.
Internationally recognized as an authority on the United Nations Convention on Contracts for the International Sale of Goods (CISG) and a leading figure in the harmonization of global commercial law, Albert Kritzer earned accolades such as "You have done more for the success of the Convention, and more to create the infrastructure for a revolution in commercial legal practice, than anyone in the world" (words by law professor, author and CISG expert, Harry Flechtner). Kritzer wrote the multi-vlume "International Contract Manual", first published in the early 1990s. He developed a unique online database of interpretations of the CISG of over 2,500 international contract court decisions and arbitral rulings representing 74 countries and taught courses on the CISG. He was devoted to helping students and engaging them in international contract law.
In 1993, he co-founded two prestigious annual student competitions to train future leaders in dispute resolution: the Willem C. Vis International Commercial Arbitration Moot and the Clive M. Schmitthoff Student Essay Competition. Kritzer received the 1998 Award for Distinction in International Affairs from the New York State Bar Association, and the International Association of Law Libraries recognized the CISG Database with the first annual award for non-commercial pusuits in 2002. In 2008, the Festschrift "Sharing International Commercial Law across National Boundaries" was published in honor of Albert Kritzer on the occasion of his eigthieth birthday.
A generous, warm-hearted, energetic, inspiring, much-beloved visionary scholar devoted to facilitating increased understanding, peace and justice, Albert Kritzer created communities wherever he went and left a legacy of many projects in progress. He will be sadly missed by family members and an international network of students, colleagues and friends. Letters of condolence poured in from all corners. To quote one of them: "The law community lost a great master, and the world lost a great human."
For more information on Albert Kritzer's work and legacy see, Marie Stefanini Newman, Albert Kritzer: Pioneer of Open Access to International Private Law, in Sharing International Law Across National Boundaries 361 (Camilla B. Andersen & Ulrich G. Schroeter eds., 2008).
Commentaries and Notes on the CISG by Albert H. Kritzer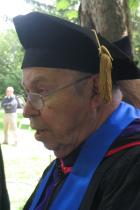 The Convention on Contracts for the International Sale of Goods: Scope, Interpretation and Resources
A Uniform International Sales Law Terminology
Vikki Rogers and Albert H. Kritzer
Achieving Optimal Use of Harmonization Techniques in an Increasingly Interrelated Twenty-First Century World Consumer Sales: Moving the EU harmonization Process to a global plane
Louis F. Del Duca, Albert H. Kritzer & Daniel Nagel
Celebrating and Researching the CISG - Progress in the Rule of Law in the PRC
Roadmap to Incoterms (1990)
Roadmap to Incoterms (2000)
Checklist on the CISG
(Adapted excerpt from Albert H. Kritzer ed., Guide to Practical Applications of the United Nations Convention on Contracts for the International Sale of Goods)
Written in collaboration with Axel H. Baum
Pre-Contract Formation
Taming the Dragons of Uniform Law: Sharing the reasoning of courts and arbitral tribunals
-- English case texts and translated case texts --
Albert H. Kritzer & Loukas A. Mistelis
Co-Editor of the International Contract Manual
published by Thomson West
Albert H. Kritzer, Sieg Eiselen, Allison Butler, Francesco Mazzatto
Review: Honnold Documentary History
22 Cornell International Law Journal (1989) 59-61
Guide to Practical Applications of the United Nations Convention on Contracts for the International Sale of Goods
Kluwer Law International (1989) 633 p.
Guide to Practical Applications of the United Nations Convention on Contracts for the International Sale of Goods
Kluwer Law International 2 vols. (1989-94) [looseleaf]
International Sale Contracts: Challenges and Opportunities, in: Doing Business & Investing Abroad:
Fourteenth Annual Institute for Corporate Counsel, New York: Practicing Law Institute
Course Handbook Series No. 752 (1991) 175-180
Legal briefs: The Latest News on the CISG
Purchasing Today (February 1997) 18-19
Albert H. Kritzer & Constance Cushman
Introduction to the Pace Law School CISG Database & Translation Program, in: International Sales Transactions: Are You in Compliance with the CISG and UCP 600?
[New York] City Bar Center for Continuing Legal Education (May 1, 2007) 243-257
CISG and UCC Comparisons and Match-Ups
40 UCC Law Journal (Winter 2008) 391-404
The Case and How It Is Changing International Commercial Law
in: Janet Walker, ed., The Vis Book, A Participant's Guide to the Willem C. Vis International Commercial Arbitration Moot, Juris Publishing, Inc. (2008) 17-38
Loukas Mistelis, Albert H. Kritzer & Carinne Montineri
CISGW3 Internet database of the Institute of International Commercial Law of the Pace University School of Law
<http://www.cisg.law.pace.edu>: introductory material; data on legislative history, scholarly writings, case law, guide to the Pace Annotated Electronic Library on the CISG, links to other relevant databases
Recently added cases, case translations and commentaries
[New material added in April 2009] --Editorial remarks
Comments on Raw Materials Inc. v. Manfred Forberich
U.S. District Court [Illinois], 6 July 2004
CROSS-REFERENCES AND EDITORIAL ANALYSIS -- Article 4
CROSS-REFERENCES AND EDITORIAL ANALYSIS -- Preamble
Editorial remarks on the manner in which the UNIDROIT Principles may be used to interpret or supplement CISG Article 15
Editorial remarks: Article 25
ANNOTATED TEXT OF CISG
Testimonium: Authentic languages of text Commentary
CISG CASE PRESENTATIONS - EDITORIAL REMARKS
Australia 28 April 1995 Federal Dist. Ct., Adelaide (Roder v. Rosedown)
Australia 30 November 1995 Federal Dist. Ct., Adelaide (Roder v. Rosedown)
Austria 20 February 1992 District Court for Commercial Matters Vienna (Shoes case) [translation available (excerpt)]
Austria 15 June 1994 Vienna Arbitration proceeding SCH-4318 (Rolled metal sheets case) [translation available]
Canada 26 January 2000 Ontario Court of Appeal (Nova Tool v. London Industries)
China 20 July 1999 Supreme Court of the People's Republic of China (Zheng Hong Li Ltd. Hong Kong v. Jill Bert Ltd. Swiss) [translation available]
China September 2006 CIETAC Arbitration proceeding (Apparel case) [translation available]
European Court of Justice 20 February 1997 (Mainschiffahrts-Genossenschaft eb (MSG) v. Les Gravihres Rhinanes SARL)
European Court of Justice 16 March 1999 (Transporti Castelleti Spedizioni Internazionali S.p.A. v. Hugo Trumpy S.p.A.)
Germany 24 October 1979 Supreme Court [ULIS precedent] (Cheese case) [digest available]
Germany 26 March 1992 Supreme Court (Windows and doors case)
Germany 24 March 1999 Supreme Court (Vine wax case) [translation available]
Germany 14 August 1991 District Court Baden-Baden (Wall tiles case) [translation available]
Germany 6 October 1992 District Court Berlin (Wine case) [translation available]
Germany 2 July 1993 Appellate Court Düsseldorf (Veneer cutting machine case) [translation available]
Germany 10 June 1980 District Court Essen [ULIS precedent] [translation available]
Germany 13 June 1991 Appellate Court Frankfurt (Textiles case)
Germany 17 September 1991 Appellate Court Frankfurt (Shoes case) [translation available]
Germany 18 January 1994 Appellate Court Frankfurt (Shoes case) [translation available]
Germany 30 August 1996 Hamburg Arbitration Proceeding [translation available]
Germany 23 March 1978 Appellate Court Hamm [ULIS precedent] (Brass poles case) [translation available]
Germany 26 June 1980 Appellate Court Hamm [ULIS precedent] (Shoes and bags case) [translation available]
Germany 27 January 1981 District Court Heidelberg [ULIS precedent] [translation available]
Germany 15 November 1998 District Court Karlsruhe (Steel case) [translation available]
Germany 23 February 1990 Appellate Court Koblenz (Wine case)
Germany 22 February 1994 Appellate Court Köln (Rare hard wood case) [translation available]
Germany 3 June 1983 District Court Konstanz [ULIS precedent] (Construction materials case) [translation available]
Germany 3 July 1989 District Court München (Fashion textiles case) [translation available]
Germany 24 May 1977 District Court Münster [ULIS precedent] (Shoes case) [translation available]
Germany 31 August 1989 District Court Stuttgart (Shoes case) [translation available]
ICC Arbitration Case No. 5713 of 1989 [English text]
ICC Arbitration Case No. 6281 of 26 August 1989 (Steel bars case) [English text]
ICC Arbitration Case No. 6149 of 1990 (Clothing case) [English text]
ICC Arbitration Case No. 7153 of 1992 (Hotel materials case) [translation available]
ICC Arbitration Case No. 7585 of 1992 (Foamed board machinery) [English text]
ICC Arbitration Case No. 7399 of 1993 (Shoe case) [English text]
ICC Arbitration Case No. 7331 of 1994 (Cowhides case) [English text]
ICC Arbitration Case No. 7531 of 1994 (Scaffold fittings case) [English text]
ICC Arbitration Case No. 7565 of 1994 (Coke case) [English text]
ICC Arbitration Case No. 7660 of 23 August 1994 (Battery machinery case) [English text]
Iran / U.S. Claims Tribunal 28 July 1989 (Watkins - Johnson v. Islamic Republic of Iran)
Israel 26 June 1989 Supreme Court (Datalab Management v. Pollak) [ULIS precedent]
Italy 24 October 1988 Supreme Court (Kretschmer v. Muratori Enzo)
Italy 31 January 1996 District Court Cuneo (Sport d'Hiver di Genevieve Culet v. Ets. Louys et Fils) [translation available]
Mexico 4 May 1993 Compromex Arbitration proceeding M/66/92 (Jose Luis Morales v. Nez Marketing) [translation available]
Netherlands 25 September 1992 Supreme Court (Société Nouvelle des Papéteries v. Machinefabriek)
Netherlands 30 November 1989 District Court Alkmaar (Société Nouvelle Baudou v. Import - en Exportmaatschappis Renza)
Netherlands 8 February 1990 District Court Alkmaar (Cofacredit SA v. Import - en Exportmaatschappij Renza)
Netherlands 21 June 1989 District Court Almelo (Société Nouvelle des Papéteries v. Machinefabriek)
Netherlands 9 August 1995 District Court Almelo (Wolfgang Richter Montagebau v. Handelsonderneming Euro-Agra and Te Wierik)
Netherlands 15 June 1994 District Court Amsterdam (Galerie Moderne v. Waal)
Netherlands 5 October 1994 District Court Amsterdam (Tuzzi Trend Tex Fashion v. Keijer-Somers)
Netherlands 7 December 1994 District Court Amsterdam (Hans Hagemann v. Bell Rain Regenkleding Industries)
Netherlands 5 January 1978 Appellate Court Amsterdam (Amran v. Tesa) [ULIS precedent] [translation available]
Netherlands 16 July 1992 Appellate Court Amsterdam (Box Doccia Megius v. Wilux International)
Netherlands 8 April 1993 Appellate Court Amsterdam (Verwer v. Pex Handelsmij. & Toshiba Deutschland)
Netherlands 7 May 1992 District Court Arnhem (Dralle-Fruchthandel v. H.C. Van Bligederveen Fruit Ingen)
Netherlands 3 September 1992 District Court Arnhem (S. Jacobs v. Auto Opgenoort)
Netherlands 22 October 1992 District Court Arnhem (Streamline Building Products v. Albrecht Bouwproducten)
Netherlands 25 February 1993 District Court Arnhem (P.T. Van den Heuvel v. Santini Maglificio Sportivo de Santini)
Netherlands 15 April 1993 District Court Arnhem (J. A. Harris & Sons v. Nijmergsche Ijzergieterij)
Netherlands 29 April 1993 District Court Arnhem (Gröticke v. Neptunus Shipyard)
Netherlands 27 May 1993 District Court Arnhem (Hunfeld v. Vos)
Netherlands 30 December 1993 District Court Arnhem (Nieuwenhoven Veehandel v. Diepeveen)
Netherlands 12 June 1990 Appellate Court Arnem (Société Nouvelle des Papéteries v. Machinefabriek)
Netherlands 22 August 1995 Appellate Court Arnhem (Diepeveen-Dirkson v. Nieuwenhoven Veehandel)
Netherlands 13 November 1990 District Court Breda (De Vosen Zonen v. Reto Recycling)
Netherlands 23 September 1991 District Court Breda (Melody v. Loffredo, h.o.d.n. Olympic)
Netherlands 21 November 1990 District Court Dordrecht (E.I.F. v. Factron)
Netherlands 7 June 1995 District Court 's-Gravenhage (Smits v. Jean Quetard)
Netherlands 6 May 1994 District Court 's-Hertogenbosch (Rabobank Nederland v. Teppich Fabrik Malans)
Netherlands 27 November 1991 Appellate Court 's-Hertogenbosch (De Vos en Zonen v. Reto Recycling)
Netherlands 26 February 1992 Appellate Court 's-Hertogenbosch (Melody v. Loffredo, h.o.d.n. Olympic)
Netherlands 26 October 1994 Appellate Court 's-Hertogenbosch (Jungmann Nutzfahrzeuge v. Terhaag Bedrijfsauto's)
Netherlands 1 March 1995 Appellate Court 's-Hertogenbosch (Sicamob International v. Wulms Eierhandel)
New Zealand 20 December 1993 High Court Auckland (Crump v. Wala)
New Zealand 2 December 1997 Court of Appeal (BP Oil NZ Limited v. Rhumvale Resources Limited) (Prize machines case)
New Zealand 2 April 2001 Court of Appeal (Integrity Cars (Wholesale) Ltd v. Chief Executive of New Zealand Customs Service) (Autos case)
New Zealand 10 May 2002 High Court, Auckland (KA (Newmarket) et al. v. Hart et al.) (Interior decoration items case)
Russia 3 June 2003 Arbitration Court [Appellate Court] for the Northwestern Circuit [translation available]
Switzerland 21 December 1992 Civil Court Basel (Textiles case) [translation available]
Switzerland 31 May 1996 Zürich Arbitration proceeding (Soinco v. NKAP) [English text]
United States 15 June 1993 Federal Appellate Court [5th Circuit] (Beijing Metals v. American Business Center)
United States 6 December 1995 Federal Appellate Court [2nd Circuit] (Delchi Carrier v. Rotorex)
United States 20 August 1996 Federal Appellate Court [9th Circuit] (Attorneys Trust v. Videotape Computer Products)
United States 29 June 1998 Federal Appellate Court [11th Circuit] (MCC-Marble Ceramic Center v. Ceramica Nuova D'Agostino)
United States 22 May 1990 Federal District Court [New York] (Interag Ltd v. Stafford Phase)
United States 14 April 1992 Federal District Court [New York] (Filanto v. Chilewich)
United States 6 April 1994 Federal District Court [New York] (Braun v. Alitalia)
United States 22 September 1994 Federal District Court [New York] (Graves v. Chilewich)
United States 6 December 1995 Federal Appellate Court [2nd Circuit] (Delchi Carrier v. Rotorex)
United States 21 July 1997 Federal District Court [New York] (Helen Kaminski v. Marketing Australian Products)
United States 6 August 1997 Federal District Court [New York] (Kahn Lucas v. Lark International)
United States 19 February 1998 Federal District Court [North Dakota] (PrimeWood, Inc. v. Roxan GmbH)
United States 6 April 1998 Federal District Court [New York] (Calzaturificio Claudia v. Olivieri Footwear)
United States 27 October 1998 Federal District Court [Illinois] (Mitchell Aircraft Spares v. European Aircraft Service)
United States 30 January 2001 Federal District Court [California] (Supermicro Computer v. Digitechnic)
United States 29 March 2002 Federal District Court [New York] (TeeVee Toons v. Gerhard Schubert GmbH)
United States 28 March 2003 Federal District Court [Pennsylvania] (ID Security Systems Canada, Inc. v. Checkpoint Systems, Inc.)
United States 21 May 2004 Federal District Court (Chicago Prime Packers, Inc. v. Northam Food Trading Co., et al)
United States 6 July 2004 Federal District Court (Raw Materials Inc. v. Manfred Forberich GmbH & Co., KG)
United States 7 June 2005 Federal District Court [Louisiana] (Portimex v. Zen-Noh)
United States 6 January 2006 Federal District Court [Pennsylvania] (American Mint LLC v. GOSoftware, Inc.)
United States 7 February 2006 Federal District Court [Washington State] (Beltappo Inc. v. Rich Xiberta, S.A.)
United States 16 September 2008 Federal District Court [Michigan] (Key Safety Systems, Inc. v. Invista, S.A.R.L., L.L.C.)
United States 7 July 2009 Federal District Court [Wisconsin] (Amit Israeli v. Dott. Gallina S.r.l., Dario Gallina and David Galina)
United States 30 March 2010 Federal District Court [New York] (Guangxi Nanning Baiyang Food Co. Ltd. v. Long River International, Inc.)
United States 24 October 1989 Federal International Trade Court (Orbisphere v. U.S.)
United States 13 December 2002 California Court of Appeal, Second District (Regency Wines, Inc v. Champagne Montaudon)
United States 12 April 1995 State Appellate Court [Oregon] (GPL Treatment v. Louisiana-Pacific)
CISG CASE PRESENTATIONS - CASE DIGEST
Germany 9 June 1995 Appellate Court Hamm (Window elements case) [translation available]
Germany 6 October 1995 Lower Court Kehl (Knitware case) [translation available]
ICC Arbitration Case No. 8247 of June 1996 (Chemical compound case) [English text]
In Memoriam of Albert H. Kritzer
Jing Li2010 says:
I was in shot when I heard the news. There are so many words that I ought to have said, so much that I ought to have done, and yet, I always thought I would put them away for this and that reason, thinking that I had another day.
I started working with Prof. Kritzer on the translation program more than a year ago in the hope of introducing more Chinese international commercial arbitration cases to the CISG database he edited. I admired Prof. Kritzer for all the efforts he had been putting into pushing the Chinese legal system towards a more modern and international trend along with other leading countries. With his great work and his persistence, he connected with the best scholars and students in the field in China to work with him. We also agreed to "tame the dragon" by working more closely together in translating and editing the Chinese cases. He always challenged me with the most difficult cases and when I doubted myself, he encouraged me like a mentor, like a friend, and like a father. He always believed in me.
I first met Prof. Kritzer in person this January. It was on a cold New York weekend afternoon. He drove all the way from Pace Law to the train station to wait for me and pick me up. He was exactly how I pictured him to be. Very kind and interesting. We enjoyed a wonderful Spanish lunch where he insisted ordering a giant dessert yet watched me eat most of it, saying that he had to watch his health, but it was like him enjoying it knowing that I loved it. I wanted to hold the door for him when exiting the restaurant, but he struggled to hold it for me. We then visited his second home – the International Commercial Law Institute, where all the great minds meet. He said he was very ineffective, so he worked long hours and on the weekends as well. He showed me pictures of his adopted Chinese son and daughter, who were his favorite students and friends and told me stories. When I was complaining the difficulties of doing research, he spread his arms, "Welcome!" I was invited to use the library any time I want!
I only met Prof. Kritzer one other time afterwards for Chinese New Year. I promised him to write an essay on a topic that he gave me. However, I've been putting it off because of my "busy" schedule, thinking things could wait. I also promised Prof. Kritzer to visit, on behalf of the Institute, the CIETAC in Shanghai to establish a relationship later this year. Now that things have changed, I know that accomplishing these unfinished missions is the greatest honor from me to Prof. Kritzer.
Posted at 7:05AM, 29 June 2010 PDT
****
Missing Al
Anna Linne says:
I feel indebted to Al, and it has to do with one of Al's greatest gifts: his ability to make close friends all over the world, who then end up making friends with one another. He befriended my husband Ralph when Ralph worked at the University of Tromso law school in Norway over a decade ago. In 2007, when Ralph came from England to visit Al, I was Al's student, great admirer, and friend, and I naturally extended my trust and friendship to Ralph as a result of my friendship with Al. It was due to the faith and good will we had for Al that Ralph and I were able to explore starting a trans-Atlantic relationship after knowing each other for only two weeks. Al witnessed our marriage in 2008, visited us in the hospital when we welcomed our son Austin in 2009, and also knew that we are expecting a second child this winter.
Over the last year and a half, we lived 15 minutes away from Al and he has been a frequent presence at our house on Fridays, sharing a meal, stories of his past, and news from his work. His absence is much felt in our household, and we can't help but miss him.
Al had always said that he would live until he was 120. During a long car ride in China in 2007, he explained that this life expectancy was as God had granted Abraham, making me realize that jokes aside, he was at least half serious. Over time, I became convinced that he had the energy to live many more years than he had.
At the age of 82, Al often worked a 7 day week, 12 hours a day, on the CISG database and other international commercial law matters, providing his own funds to support the effort, busy coming up with new ideas or plans for new projects, busy making new friends all over the globe, and busy traveling internationally to meetings and conferences. I heard comments that this period was among the periods of his life when he was most professionally content. With his energy and enthusiasm, one may find it hard to believe that in October 2009, before his pacemaker was replaced, the doctor evaluated his previously damaged heart to be only functioning in the 20% range.
It was probably under that heart condition that he traveled to China in late 2007 to attend the CISG conference in Wuhan, yet another conference largely due to his initiative, and he climbed the mountains along the Three Gorges, though with some assistance at times. He often said that he was too busy to get sick, a statement reflecting his belief that will power and self discipline trump external factors.
Al had an exceptionally fertile mind for as long as we knew him. He constantly came up with new ideas and plans for new projects. The bridge of friendship he brought to Egypt intending to be kept by the winning Vis team in the region each year was one of the most recent examples. The last time he stopped by our house, in the middle of May, one of our topics of discussion was his idea for helping with the oil spill in the Gulf region.
Although Al lived a long, rich and fulfilled life, it was still too short for his young and active mind. We miss him greatly and he will live on in our hearts. Perhaps one way for us to honor his memory is to take on a little bit of his enthusiasm for life. Rest in peace, Al. With love and gratitude, Anna, Ralph and our offspring.
Posted at 5:55PM, 21 June 2010 PDT
****
Thank you Al
Lisa Spagnolo says:
Like so many, I will miss Professor Kritzer very much.
He had a special give for fostering friendship amongst scholars and practitioners around the world.
This is what made his contribution so great - with Al, whatever he began was magnified ten-fold by his influence in generating enthusiasm and co-operation amongst others.
The best way we can honour Al is to continue in his spirit of global goodwill.
Posted at 11:49PM, 20 June 2010 PDT
****
LouisDelDuca says:
I take this opportunity to honor Albert H. Kritzer – a cherished friend, a creative visionary and free spirit and a distinguished colleague.
Al was constantly reaching out to create new avenues of friendship and communication to bring more civility, rationality, and understanding into the world via the promotion of the uniform interpretation and application of international trade agreements. He was on such a mission when he died while on a trip to Egypt with family and friends in which the Arab Conference for Commercial and Maritime Law honored him as the recipient of their 2010 Career Achievement Award.
Before his departure to Egypt he enthusiastically shared with me plans for creation of another arbitration Moot Court center in Bahrain as a bridge of friendship between Arab Law Schools and Law Schools from other systems and countries.
Along with Willem C. Vis and Eric Bergsten, Al was instrumental in establishing the first Vis Moot Court in Vienna in the early 1990's. From a modest beginning, the Vis moot has grown to over 250 participating Law Schools from around the world, giving unique opportunities to law students, practitioners and academics to interact professionally and culturally.
I had long known about Al's vision, scholarship, dedicated creative work, and in particular, his work in creating and developing the global electronic CISG library. However, only recently did I have the foresight to include him regularly on the panel of speakers on the Convention on the International Sale of Goods (CISG) at the Uniform Commercial Code Institute. This was the beginning of a lasting friendship. His vision, optimism and can-do outlook were contagious to all of us. It was difficult to decline his invitations to become involved in projects requiring dedication and commitment. – and so the CISG Database, the Global Consumer Law Forum (including his idea for a soft law for cross-border consumer disputes – GPICC) and the global online dispute resolution projects are with us as part of his legacy.
We are saddened by Al's departure. We nevertheless rejoice in the legacy he has left us – a sense of power, achievement, and do-ability, coupled with a sense of friendship, equity and fairness in individual, national and international dealings.
We salute Al Kritzer - our cherished friend and colleague, and his life of achievements and idealism.
Posted at 7:07AM, 18 June 2010 PDT
****
Last word written by Prof. Kritzer is Peace!
Nader M. Ibrahim says:
This is the last academic work written by Prof. Kritzer, I added his name, event and date, but his last written word was Peace.
INFLUENCE OF ISLAM ON THE WESTERN LEGAL CULTURE
PART II
Primary source: Wyndham Anstis Bewes, The Romance of the Law Merchant (1923)
For many years, it was presumed that modern commercial law is a product of the Italian merchants, due to their dominance of international trade around the world throughout the Middle Ages. While it is true that the Romans had dominated every aspect of international trade and the law merchant developed through the laws of the merchants, especially at the great international fairs of the time, but the assumption that it was invented by those Roman merchants is a common misperception. That misperception arose because of the fact that international law saw a revival in the 12th century, and at that time, it was the merchants of Italy who were at the head of the resurgence of trade in the West and much of what we know about the law merchant is based on documentations provided by them and their fellow merchants of the Western countries. However, there is much more to the law merchant than the contributions to it by the merchants of those countries.
While it is true that Arab merchants may not have invented the concepts of the law merchant, the Rome clearly adopted its system from its Arab predecessors in trade. It is likely that the Phoenicians, who developed the trade routes along the coasts and islands of the Mediterranean, originally invented the concepts. For hundreds and hundreds of years after the fall of Rome, it is clear that the Arab merchants had dominated the industry. Rich caravans of "spices, gold, silver, silks, robes, arms of every kind" were common occurrences.
As Wyndham Anstis Bewes noted in his work "The Romance of the Law Merchant", at the time of the commercial renaissance of the Mediterranean, there was no statutory commercial law, but rather, similarly to how it is now through extra-judicial systems like arbitration, "the law of the merchants … was customary law, i.e., the habitual practice of merchants of all lands enforced in the summary manner by officials familiar with trade." Although Bewes, in 1923, noted the fact that at the time the Italian merchants became prominent in international trade, the question still remained about the actual origin of the law merchant; since clearly "[i]t all appears at once, like Minerva spring fully armed from the brain of Jove; but although this great commercial development was new in European hands, it was of centuries' standing in the hands of the Eastern nations." It is logical to assume, and from the historical understandings that have developed since Bewes' recitation in 1923, it is safe to state, that as the Western merchants began to capture the trade from the East, they adopted the customs under which they had operated prior thereto
Bewes makes clear in his work that the Western world owes much to its Arab predecessors, both in trade and law when he states that:
Europe may be indebted to the East for the earliest form of shipping document, as well as for the law merchant generally, as practised by merchants from the early times of the Assyrian and Babylonian kingdoms. She is, at any rate, the debtor of the Chinese for the invention of the compass, although it was left to the Arabs to adapt it for the purposes of navigation, about the year 1100; while she is indebted to the latter also for the astrolabe, these both coming into general use both East and West about 1200. Thus, once again the Arabs were the channel of a great good, and this at th[at] crucial time ...
Understanding the history of trade, it is evident that the question that had not been asked was "How did the merchants of the West develop their own law?" The answer to that question goes all the way back to the Norman occupation of Tunisia (known previously as Ifriqiyya) and Sicily in the Twelfth Century, at which time those territories were conquered and taken from its Muslim inhabitants. At that time, the Maliki School of Law, a system of Islamic legal doctrine, governed each Sicily and Tunisia, and the Western common law took on many significant aspects of Islamic law as a result.
Roger I brought Sicily, with its predominantly Muslim culture, back into the European political world, beginning the integration of Muslim social and legal culture into the mainstream of Europe, retaining many of the Islamic elements of government. It was primarily due to the Norman presence across Medieval Europe which facilitated this spread of Islamic legal culture. Henry II then took much of the system of law found under Roger II. Although it was not documented clearly during that time, it is clear from the resulting development of the European law that the Islamic rule of law permeated the European legal culture.
By looking through some of the commonly shared principles of the Islamic and Western legal schemes, it is clear that we have in common more than we have distinct, even if the principles are applied slightly differently. Some examples of these foundational similarities are:
Individual Self-Definition: Providing an objective law guaranteeing the subjective rights of individualsSecular Legal System: Secular legal systems which are concerned with the legality rather than the morality of society's actions and focus on the receipt of justice.Law Above the State: Law developed from the conscience of each judge tasked with crafting legal reasoning expressed in legal opinions. Islamic judges base their decisions on custom (urf), necessity (darura) and preferred (rajih) or dominant (mashhur) opinions among the scholars (fuqaha') which created precedent which bound later judges.Freedom of Contract: Due to some skepticism of government as the creator of substantive policy, the law may be displaced by contracts or other private agreements. Islamic law is based on an absence of formalism, creating a flexible approach to contracts.Impartial Judiciary: The Islamic qadi, like the English judiciary, is not charged as a decision maker, but primarily as an impartial umpire present to assist in settling conflict between the parties.Fairness Over Truth: The aim in both societies is to assure fairness in judicial proceedings, even if it results in an incorrect result. The formal rules that are adhered to in both societies are utilized to ensure a fair process.Individual Autonomy: Under the common law, citizens are given the personal autonomy to decide how their own claims are managed and define the issues of their own lawsuits. Islamic law, along the same lines as the common law approach, will only allow the qadi to hear a claim if it was brought by the claimant who defines the limits of their claim in their pleadings (maqal).Dissenting Opinions: Dissenting opinions (khilaf) by the judiciary is a major feature of both systems, creating a basis upon which advocates base their own subsequent arguments.
Comparison of Islamic and Western Contract Law (Aqd) and the Law Merchant
With such clear similarities between Islamic and Western legal culture in a broad sense, it is not surprising that the Western merchants adapted to the foundations of the law merchant once they broke out of the cocoon of feudalism to become active in the trade scene. While there are clearly differences in the commercial law of Islamic states and the Western rule of law, many of the foundations to commercial law are shared, and can arguably be traced to the Islamic legal tradition.
There are many broad commercial principles which are derived from Islamic law and have become foundational concepts to many commercial codes around the world:
The Law Merchant: The lex mercatoria owes its establishment to the international trade fairs, of which, much can be attributed to the Islamic and Eastern influences. Even though the consular and commercial courts that once enforced the law merchant are mostly obsolete or have been merged into the various courts of law, much of the law developed at those fairs has survived and become a part of the commercial codes around the world.Offer and Acceptance: One of the foundational concepts of contracts law is shared by both systems (and likely adopted from the Arab traders) – that title of goods passes at the time of the agreement, even if that occurs before the physical delivery of the goods. This concept is embodied in the system of offer and acceptance that is in force throughout the Western world. It has been noted by authors like Bewes that when contracts are concluded by consent, it is necessary to protect the unpaid seller with the use of liens; while contracts concluded by delivery require no such lien. It is also interesting to note that sales at the international trade fairs were all cash sales, but outside the fairs, local terms for credit would apply. However, though Arab influence can be partially credited, it should be pointed out that it was early Canon and German law utilized the same concepts.Equivalence and Quid pro quo: In the Islamic tradition, this concept operates under the principle of equivalence, under which the conclusion of the contract create a legal imbalance requiring the buyer to produce the price to restore the balance between the parties. This system is quite similar to the English concept of quid pro quo that created the right in the seller to obtain some form of valuable consideration from the buyer, and if such exchange did not occur, the seller had the right to bring suit.Title Guarantees and Warranties: Under Islamic law, the seller guarantees title and is held responsible for hidden defects as a default rule in the absence of express agreement. This default can be traced at least as far back as the Curule Aedile, and was applied to sales of movable and immovable goods. The Islamic system treats hidden defects as ground for rescission of the contract. Many consider the use of the contra rule – caveat emptor – to be a major defect in the English legal regime.Bills of Exchange: The use of bills of exchange were extremely commonplace at the fairs come the Middle Ages, so it is clear that they had been used for some time prior to that period. As such, the practice seems to have begun among Arab traders of the Levant in the eighth century and then passed to the Italian traders following the Crusades who adopted the commercial document. The clearest evidence of this Arab connection is the Italian translation, awal, which can be traced back to the Arabic word, hawâla.Shipping law: The Hammurabi Code of Laws included several provisions governing the shipping of goods – such as (1) the replacement of a ship by a boatman causing its damage due to his carelessness; (2) the replacement of goods lost by a boatman due to his careless acts; and (3) the payment by any boatman who causes another's to sink for any goods recounted by the sunken ship's owner to have been on board. Although Egypt was many centuries ahead of Mesopotamia, the Egyptian maritime laws are have long ago been lost to the damp climate of the Nile River Delta. However, there are traces of Egyptian influence in the countries who took with them items from their expeditions to the region. One of these traces can be found in Chinese accounts of trade which noted the searching of newly arrived ships to port in order to take a "manifest" of the contents on board.Acquisition by prescription: In strict Arab law, there may be no acquisition by prescription, or persons may not acquire title in a thing through mere possession. Originally, this was the case in the law merchant, but as time advanced, exceptions arose which abrogated this rule.Interest: Tracing its roots to the fairs, the concept of interest being charged on loans, damages and unpaid accounts can be traced to the ancient traders.Partnership law: The concept of partners acting as agents for the partnership, having the authority to bind it even when acting alone, is a concept which was included in Roman law, but first found in the general partnership structure of the Arab traders.Agency: Although the Roman law differed in their use of agency, the law merchant deriving its origins from Islamic law can be compared to the English, French and Spanish law which allows agents to operate in all aspects of business, binding the principal even thought unnamed in various business enterprises.
It is clear from all of the connections between legal cultures that the customary law merchant that developed under Phoenician and Islamic custodianship prior to the Roman dominance of international trade has served as the basis for many of the commercial codes of modern legal systems. As such, history has shown that international trade has served as one of the foundations for so many legal systems through common understanding and adoption of foreign legal ideals.
Concluding Words from the Writings of M. Huvelin
In his book on the law merchant, Bewes ends his discussion of the development of the law with a lengthy quote on the importance of international trade in the development of international relations. As Bewes found it poignant to include the lengthy quote at the end of his work, it seems equally fitting here.
The influence of the fairs on our public law, on the movement of municipal emancipation and on the enfranchisement of the commons is undeniable. More striking still is their influence on the relations of international law; the term '"fair" is the equivalent of the term "peace." The reaction against the principles of primitive hostility is working under the influence of commercial needs. If, perhaps, it is incorrect to say that the relations of hospitality, containing in germ the most characteristic institutions of international law, are only borne of the necessities of trade, it must still be recognised that they have powerfully contributed to second in this matter the affinities of religions and races. Thanks to the progress of the peace of the fairs and their safe-conducts, the communications of foreigner with foreigner become more certain; international relations multiply; transactions are surrounded by guaranties; and the ideas of good faith and of the loyalty which should preside over commerce are more and more developed. At the same time the means of transport are being perfected. Men, hitherto thrown back upon themselves in the bosom of a family group, assume contact with each other; original mistrust is weakening; and already there appear tendencies to sociability which hitherto nothing had revealed. Little by little the last vestiges of primitive hostility disappear. Reprisals and the droit d'aubaine cease. Privileges which had for long made fairs and markets asylums withdrawn from the common law, gain more and more ground. The peace of commerce conquers the world, and fairs only disappear after accomplishing their work.
Their role is not less remarkable in economic matters. They are the first places where the notions of value are able to develop; the law of supply and demand, the law of the balance of trade find there their first application. It is at the fairs that merchandise and money cease to be mere objects of consumption, and become capital. Thanks to the fairs, traffic is regularised and submitted to the great law of competition.
At the same time the law of the fairs, born of the peace of commerce, is acting strongly on institutions under the ordinary law still embued with its ancient rigours. … The tendency to uniformity is strengthened. In the midst of the diversity of local law, the law of the great fairs everywhere remains the same in its essential features. This law is universal almost by the same right as the Canon law. The jurisdictions of the fairs command obedience in all parts. And thus emerges the conception of the law merchant, outside and above civil statutes and local commercial usages. … The modern world has preserved visible traces of this influence. In the words of Goldschmidt, it carries a mercantile signature. Everything shows it – both things and words: objects without defects are called merchantable goods, current money is terms "money of the merchants," movable fortune is often called "fortune of the merchants."
Thus the fairs, this original form of terrestrial commerce, have been in the history of civilisation, incomparable instruments of reconciliation, of unification and of peace.
Prof. Alber Kritzer
Arab Conference for Commercial and Maritime Law, Alexandria, Egypt
May 29, 2010
Posted at 6:59AM, 18 June 2010 PDT
****
Nader M. Ibrahim says:
Dear Friends of Prof. Krizer,
My full time is to teach law, mostly related to international trade. I had a dream for my city, Alexandria, to one day to be a major forum where professors and practitioners of law could meet annually to exchange experience and build new friendships.
I never forgot about students, they are the future. I hopped through the forum that they can get experience and further networking for their future professional career. A moot court was always on the table, but never realized for shortage of experience and resources.
I however started in 2007, an annual Arab conference for Commercial and Maritime Law, and founded in 2008 an NGO to secure its continuance, the Arab Society for Commercial and Maritime Law (www.ascml.org). We managed to convince remarkable professors and law practitioners to join us from Egypt and the region, Arabs and Europeans. The dream was global network for the benefit of good law practice in the Arab World. Each year we raised an issue that needs attention in the Arab World.
This year, we found that only five Arab countries are members to the 1980 UN Convention on contracts for the international sale of goods, the CISG, while the Arab world contains more than 21 countries (20 states). We thought it would be appropriate to raise the issue and promote for further acceding to the convention, this time from the point of view of the region, the Euro-Med, making advantage of the CISG 30th Anniversary. Europe was the maximum boarders of our dreams, and we managed to convince many to participate, all of them generously self-financed their trips.
One issue was left open, the Career Achievement Prize, a simple plate with a statement of recognition. This year we decided to leave it to the CISG Advisory Council, they accepted to help and came to us with a big surprise; it was their nomination of Prof. Kritzer. They said he will not be able to come, taking under consideration his age constrains. We were very happy though, because it was a big honor. This is not the end of the story, Prof. Kritzer, though he did not meet or exchange ideas with us, quickly found us a role in his future projects, and which is to help lead a moot court in the region, starting next March 2011 in Bahrain, under the name of Middle East Moot Court and more than that he decided to come in person with a surprise for us, to be the custodian of the future moot court prize, and which is the bridge of friendship with a text from the Kuran on it and which states that God created us different tribes in order to get to know each other. He was planning to surprise us in the conference. But we knew accidently about it from other email communications. I did not mention it in my emails with him, but he did in a late email before he comes to Egypt. I asked for the 5th Arab Conference to head the next Bahrain moot, he did not answer, but was working on it. When we were on the tragic Nile cruise trip of Friday (May 28, 2010), he told me about the acceptance of the organizers, and he passed to me the contacts of the person in charge, all in a printed hard copy. This is as if he was afraid he will not be in contact with me again!
A moot between the Arab law schools, to prepare the best for the Vis moot, what a wonderful idea.
Mr. Stuart Gander, Prof. Kritzer's son-in-law, told me that Prof. Kritzer asked for Everett, his grandson, to join Prof. Kritzer to Alexandria. The Family accepted and offered that all to join, including Mrs. Lise Gander, Prof. Krtizer's daughter, and Celeste, the grand-daughter. At the end of the Nile cruise of May 28th, Prof. Kritzer, was not fit to travel to Alexandria as planned, only Everett and Celeste joined me to Alexandria. Next day, Saturday May 29th was the first day of the conference, the program took place as planned and the prize was presented. Guess who took it on behalf of Prof. Kritzer, it was Everett and Celeste!
Everett was remarkable; he even said few words in honor of his grandfather. Prof. Kritzer called me that day, I was happy to see him progressing; he even arranged for the Bridge of Friendship to be sent to me in Alexandria with Mr. Gander.
All the time, Prof. Kritzer was not occupied by his health but by his presentation, in which he was planning to initiate the moot court for the Middle East, this is the present, and a dialogue forum and which he called the future. He was also planning to shed light on th role of Shari'a on the development of both civil and common law, that was the past.
Prof. Kritzer was a visionary, he planned for the future and the future was very well presented in our conference. A small city, a small law society, a small event, a small dream, but a big future for all.
Dear Prof. Kritzer,
I did not know you before, but you left me with too much to empty my life. The Bridge of Friendship is with me now, and I promise you, your travel to Egypt will never be for nothing.
Dr. Nader M. Ibrahim
Board Chairman,
The Arab Law Society for Commercial and Maritime Law
Posted at 6:23AM, 4 June 2010 PDT
****
Stories of Albert H. Kritzer
lexway1979 says:
I still remain in the shock. It is just a couple of months ago when I had a dinner with Al in White Plains, years ago when we first met in person in Beijing and stayed together for days in Beijing and Wuhan.
I still remeber it was Al that who wrote to encourage and help me to improve when I submitted my first manuscript to CISG Database over seven years ago. Following that, Al's encouragement and valuable comments and advice stay along the way when I published my first and second books and am writing on the third. They will stay to light my way to follow, just like his kindly smiles perpetually live in my heart.
Dear Vikki, pls. kindly cc my lexway@mail.com a message if a larger service is available for the internaitonal community to memorize.
Chengwei LIU, Boalt '10
Posted at 3:00PM, 3 June 2010 PDT
****
Clayton P. Gillette says:
I am greatly saddened by Al's passing. All of us who deal with international sales law are forever deeply in his debt. His selfless creation of public goods for the rest of us, including the Vis Moot and most importantly the Pace CISG Website, has contributed more to research and scholarship about international sales than I can say. His generosity was remarkable. He will be impossible to replace, and we will all be impoverished by his absence.
Clay Gillette
NYU School of Law
Posted at 8:59AM, 3 June 2010 PDT
****
Al Kritzer: A Pioneer, a Visionary, an Enthusiast and a Great Human
Loukas_Mistelis says:
I have known Al for some 13 years having had as first communication, an invitation to organise a team for the first moot. Although I have moved around in the last 17 years strangely enough, I have kept this letter. I got to know him in person, and he was a very warm person, when I attended my first moot in 1998.
He asked me to assist him with the organisation of the CISG-Advisory Council. I was thrilled and honoured and have worked with him intensely on the project and was the first secretary of the CISG-AC for good six years.
We also worked together on the Queen Mary Case Translation Programme which has so far coordinated and arranged for the translation of hundred of CISG court cases and arbitral awards into English. He called this exercise: Taming the Dragons.
We have also published two pieces together and co-taught a couple of seminars.
What was striking about Al was his eternal youth: he was enthusiastic, persistent, committed to his work, friends and students, a fighter and a very warm person. His hugs were sincere and humbling. His passion about uniform sales law was infinite and altruistic. He had so many ideas and implemented a great deal of them but could have gone for many more years, constantly adapting to times.
His legacies (plural!) are simply too many to mention:
- he conceived the CISG database, now admired and used by millions of user world-wide (a free service of the highest calibre);

- the commitment to the Willem C Vis International Commercial Moot where he always attended but never wanted to "judge" students;

- the CISG-AC was also another major project, occasionally financed by his own means!; the Queen Mary Case Translation Programme was a stroke of genius (he has edited most of the translations himself!);

- the International Contract Manual, a work of major practical importance;

- the CISG Autonomous Network, capturing the imagination and enthusiasm of so many lawyers world-wide.
Al has been a Visionary, a Pioneer in Legal Research, Analysis and Scholarship, a Genuine Enthusiast of International Uniform Law and a Great Self-less Friend and Family to so many people.
He will be sadly missed but his life and achievements will be celebrated for many years to come. His Legacy is Unparalleled!
My Dearest Al, may your soul rest in peace. We all have to continue your work!
Loukas Mistelis
Centre for Commercial Law Studies
Queen Mary University of London
Originally posted at 2:12PM, 2 June 2010 PDT
****
Vikki Rogers 76 says:
We have set up this site for our beloved friend and colleague, Albert Kritzer, so that people may share stories, experiences or feeling about his life and his tragic unexpected passing.
I still remain in shock at the loss of my mentor and dear friend who has taught me so much about international commercial law, how to approach life with enthusiasm and hard work, and being a good friend. Al, I am happy that you are with your Jacqueline and Annette again, but you are very much missed here.
Love,
Vikki
Posted at 12:56PM, 2 June 2010 PDT
****
Keithe Bennett says:
The first time I met Al was one of the first days I started working for Pace Law School, and my staff and I were all under a lot of stress due to final exams. He walked into the helpdesk and told one of my new staff members he was "there for his daily hug" . . . . and printer toner. He was so kind and welcoming and it made put everything in perspective for a moment.
Al took such pride in his work, of which a part is the CISG database. I think even if there was a power outage it might be able to run off his passion. There are many IT folks who feel this connection to him for this reason; what he created was groundbreaking and this is only beginning to touch on his life accomplishments.
Al, you led a full life, and thanks for arranging for a nice day =) You will be missed dearly.
Keithe Bennett
Director of IT
Pace Law School
Posted at 11:50AM, 2 June 2010 PDT
****
Jeff Aresty says:
I've known and worked with Al two times in my career - almost 20 years ago, Al helped me organize the American Bar Associations's Guide to International Business Negotiations. The ABA gave me a small budget to bring a group of distinguished international negotiators to a meeting in the Bahamas, and Al organized an eclectic group for me, bridging generations and cultures -where for 4 days, around pools, bars, and in air conditioned rooms, we came up with our first edition (we are now in the 3rd edition - so Al's vision and connections laid a strong foundation).
And, recently, when Vikki Rogers and I met on a project on online dispute resolution, I came to visit her at Pace Law School, and, there was Al, once again. I was so fortunate to have reconnected with Al, through Vikki, and to have spent some time again with him in discussion about the importance of cross-cultural communication in international law.
Al understood world peace, and, how to create the conditions on our planet to make it possible. His legacy, in bringing young people together from many cultures, in vibrant discussions and debates with each other, about the meaning of law and life, is the possibility of bringing an end to distrust and war. We owe it to his memory - in the words of J. Lennon - to give peace a chance.
Jeff Aresty
Posted at 11:50AM, 2 June 2010 PDT
****
Joseph Lookofsky says:
I am very sad to have lost such a kind and generous friend. His contribution to the CISG world during the last 30 years is unique and well-known. As evidenced by the Festschrift presented to him in Vienna on the occasion of his 80th birthday (Sharing International Commercial Law) and the award he received in Egypt, Al died at the top of his game. He was a fine man in every way.
I wrote a rather personal tribute to Al for his Festschrift. This piece, entitled "On Line with Al K," tells more about my high regard for him.
Joseph Lookofsky
Professor, dr.jur.
University of Copenhagen
Faculty of Law
Studiestraede 6
1455 Copenhagen K
Denmark
jura.ku.dk/english/staff/homepages/josephlookofsky/english/
jura.ku.dk/crs/english/
Posted at 10:48PM, 2 June 2010 PDT
****
Leandro Tripodi says:
Dear Professor Lookofsky, I was reading your tribute on the verge of tears to try to consolate myself the day after he passed away. He himself gave me the copy of the Festschrift I had in my hands that has his autograph on the first page.
****
Indira Satarkulova says:
I have been honored to meet Professor Kritzer as an international student from Kyrgyzstan pursuing LL.M degree at Pace Law School. He was the most wise, experienced and outstanding Professor, scientist and lawyer I have ever met. He was strong and energetic. He loved life and life loved him. He did not have any ill-wishers or enemies. The beloved father, grandfather and an exceptional person.
Professor Kritzer was always willing to share with all his knowledge. He had such an open and generous soul and big warm heart. In my heart Professor Kritzer became my second Father whom I cherished, loved and respected. I shall always be thankful to God for the loving Father that he blessed me with. I shall never again see a more happy person than Professor Kritzer.
Its been raining all day long in Kyrgyzstan since I got to know that I will never see Professor again. By local belief when good person dies the whole world is grieving and each rain drop reflects his merits and good deeds. And it is still raining In Kyrgyzstan since June 1... His death left a heartache that will never heal. He was not the one who was supposed to leave this world. He left too early, too soon, too unfair.. My heart is broken.
Dear members of Professor Kritzer's family, friends, colleagues,
Please accept our condolences. Our prayers and thoughts are with you during this difficult time. Professor Albert H.Kritzer will always live in our hearts.
Those we love don't go away,
They walk beside us everyday,
Unseen, unheard, but always near,
Still loved, still missed and very dear.
With deepest sympathies,
Indira Satarkulova and her family from Kyrgyzstan
Posted at 9:41PM, 3 June 2010 PDT
****
XU Junke says:
I was very grieved to hear Professor Kritzer passsing. It is just a couple of months ago when I had a dinner and enjoyed the opera with him in Vienna. I still remeber it was Prof. Kritzer that who wrote to encourage and help me to do some research work in the field of the international consumer law. I am very sad to have lost such a kind and generous mentor. His contribution to the CISG world during the last 30 years is unique and well-known. He was initiatling the forum of international consumer law .we have to continue his work. It is the best memory to him.
Dear members of Professor Kritzer's family, friends, colleagues,
Please accept my condolences. Professor Albert H.Kritzer will always live in our hearts.
XU Junke
Professor of law
China Foreign Affairs University
Posted at 8:26AM, 4 June 2010 PDT
****
cnarb says:
Dear members of Professor Kritzer's family, friends, colleagues,
We are greatly shocked by Professor Kritzer's passing. The law community lost a great master, and the world lost a great human.
As a pioneer in international commercial law and dispute resolution, Professor Kritzer was enthusiastic and energetic with unique and widely recognized contribution. His great achievements benefit the world trade and law community, and will be celebrated for many years. His remarkable personality will be the most valuable memory of all his friends.
Please accept our condolences. Professor Kritzer will always live in our hearts.
HAN Jian
Professor of Law
Secretary-General of China International Economic and Trade
Arbitration Commission, South China Sub-commission
LIN Yifei
Research Fellow, Doctor of Law
China International Economic and Trade
Arbitration Commission, South China Sub-commission
Posted at 6:40AM, 4 June 2010 PDT
*****
My Words For My Father, Al Kritzer
Rachelle Kritzer says:
My Words For My Father, Al Kritzer
Read at his funeral service by Rachelle Kritzer
One of the highlights of my childhood was going to see "Man of La Mancha" on Broadway with my father. The performance featured Richard Kiley, the actor who originated the role of Don Quixote. My father and I adored this story and believe it or not, we both memorized the words to the song, The Impossible Dream.
I cannot speak more eloquently than Don Quixote. In this song, Don Quixote explains his quest and the reasons behind it ... in doing so; he captures the essence of the play.
The lyrics are as follows:
The Impossible Dream
To dream ... the impossible dream ...
To fight ... the unbeatable foe ...
To bear ... with unbearable sorrow ...
To run ... where the brave dare not go ...
To right ... the unrightable wrong ...
To love ... pure and chaste from afar ...
To try ... when your arms are too weary ...
To reach ... the unreachable star ...
This is my quest, to follow that star ...
No matter how hopeless, no matter how far ...
To fight for the right, without question or pause ...
To be willing to march into Hell, for a Heavenly cause ...
And I know if I'll only be true, to this glorious quest,
That my heart will lie peaceful and calm,
when I'm laid to my rest ...
And the world will be better for this:
That one man, scorned and covered with scars,
Still strove, with his last ounce of courage,
To reach ... the unreachable star ...
My father was a passionate and inspirational man. He used to joke that one of his medications Bromocriptine was similar to Kryptonite and that he, in fact, was Superman. As farfetched as it sounds, it was true. My father's intellect, passion, and vision were those of a Superman. However, his body remained mortal with serious medical issues of Addison's disease and Congestive Heart Failure and he was lucky enough to have cheated death on several prior occasions.
I am so proud of my father and so proud of his legacy. He was a religious man who lived his life according to his values and principles. My father died heroically in the midst of a glorious quest.
Picture this: My father riding into Egypt on a camel, not unlike the mythical Don Quixote. And remember the words: "To fight for the right, without question or pause ..." My father's quest was to negotiate peace between Muslims, Jews, and Christians through international trade agreements.
And like Don Quixote, he "strove, with his last ounce of courage, to reach ... that unreachable star ..." (world peace between all tribes of people).
As his daughter, I am angered and saddened by his pushing himself beyond all medical advice and human limitations. As his daughter, I sometimes selfishly did not want to share him with the international community. During his lifetime, one of my passions was trying to make him listen to his doctors and trying to protect him from harm.
But in the end, I realize that my father lived and died with no regrets. My father's life was inspirational to us all. It was a rich life, a passionate life and a meaningful life.
In the end, I have to agree with my father. He lived as a Superman and he died as a Superman and I will truly miss him.
Posted at 10:48AM, 7 June 2010 PDT
****
Rachelle Kritzer says:
My Father's Final Journey
By Rachelle Kritzer
During our childhood, my sisters and I grew up as gypsies, moving every few years as my father's hard work and ambition were recognized and rewarded by numerous promotions and transfers to diverse General Electric Company's divisions throughout the United States. He started out as Corporate Counsel for General Electric with his first assignment in Connecticut then was transferred to Washington State, Illinois, Kentucky, Virginia, and Indiana. Finally, in 1976, my father was assigned to return to the New York and Connecticut area, having worked his way up to a prominent position within General Electric. In 1981, he retired from General Electric and pursued an incredibly satisfying second career in academia and scholarship at Pace University Law School. From his position at Pace, he was able to make profound contributions to further international peace and scholarship in the area of International Contract Law.
The constants in my childhood were family, education, religion, and culture. After a childhood spent in flux, constantly being called upon to develop new friends and new communities, I finally found my roots in New York when I was accepted as an undergraduate to Cornell University College of Arts & Sciences in Ithaca. My father was an alumnus of the Cornell University Law School. My father and I shared a deep love of the Cornell University campus in Ithaca, New York. It was a magical and transformative part of both of our life stories; Cornell served to launch both of us on the path towards our future passions of work, service, and family.
As I witness the multiple memorial services and testimonials to my father, the complete story of his legacy continues to unfold. As in Homer's classics, the Iliad and the Odyssey, I believe that a life well-lived does involve a mythical journey which is filled with challenges which serve to purify both character and soul. When I was at Cornell, I had a framed poem on my dorm wall entitled "Ithaca" by Constantine Cavafy. These are the words:
************************************
"When you set out on your journey to Ithaca,
Pray that the road is long,
Full of adventure, full of knowledge.
The Lestrygonians and the Cyclops,
The angry Poseidon -- do not fear them:
You will never find such as these on your path,
If your thoughts remain lofty, if a fine
Emotion touches your spirit and your body.
The Lestrygonians and the Cyclops,
The fierce Poseidon you will never encounter,
If you do not carry them within your soul,
If your soul does not set them up before you.
Pray that the road is long.
That the summer mornings are many, when,
With such pleasure, with such joy
You will enter ports seen for the first time;
Stop at Phoenician markets,
And purchase fine merchandise,
Mother-of-pearl and coral, amber, and ebony,
And sensual perfumes of all kinds,
As many sensual perfumes as you can;
Visit many Egyptian cities,
To learn and learn from scholars.

Always keep Ithaca on your mind.
To arrive there is your ultimate goal.
But do not hurry the voyage at all.
It is better to let it last for many years;
And to anchor at the island when you are old,
Rich with all you have gained on the way,
Not expecting that Ithaca will offer you riches.

Ithaca has given you the beautiful voyage.
Without her you would have never set out on the road.
She has nothing more to give you.

And if you find her poor, Ithaca has not deceived you.
Wise as you have become, with so much experience,
You must already have understood what these Ithacas mean."

***************************************************
In modern commentary, Cavafy's poem reminds us of the Odyssey's hidden truth, that the hero's journey to Ithaca is the soul's journey home. It is written that ancient tradition says that Homer's epics, the Iliad and the Odyssey, combine into a grand mystery tale, understood by initiates as describing the stages and struggles of the soul's inner journey.
"Pray that the road is long,
Full of adventure, full of knowledge..."

Too often seekers decry the road, its bumps and turns, impatient for the destination.

"To arrive there is your ultimate goal.
But do not hurry the voyage at all."

But the stops along the journey are not roadblocks, they are stepping stones. Actually, even that's not true. Seen clearly, the journey and the destination are a single continuum. The river pours into the sea, and they are one. Seated on the slow-moving river, we already touch the sea.

"...and purchase fine merchandise,
Mother-of-pearl and coral, amber, and ebony,
And sensual perfumes of all kinds,
As many sensual perfumes as you can..."
According to analyses, Cavafy suggests that worldly experience, i.e. the senses, a certain amount of materialism, these too are part of the journey. The physical world is the realm through which the soul journeys. Encountering marvels and terrors the soul strengthens and comes to know itself. Knowing itself in victory and adversity, the soul is finally ready to return. But to navigate through such bewildering, overwhelming experiences, the destination must never be forgotten:
"Always keep Ithaca on your mind!"

Don't rush through the journey, impatient only for its end. The adventure is your soul's story.

"Wise as you have become, with so much experience,
You must already have understood what these Ithacas mean."

The wisdom you attain with each step reveals the destination's true meaning. And it is just as true to say that the destination's gift is contained in the journey itself:
"Ithaca has given you the beautiful voyage!!!"
*************************************
From time to time, Ithaca calls to me and I find myself on a pilgrimage to upstate New York. In my future visits there, I am sure that I will encounter my father's spirit wandering among the young scholars on the streets of Collegetown. My father has successfully completed his long international journey and his soul has been deemed ready to return to his Maker. As the reality of my father's passing sinks in and as I progress through my stages of grief, I am able to see that my father Professor Al Kritzer did truly enjoy a beautiful voyage and that his spirit has triumphantly returned to Ithaca where his soul will find eternal contentment.
Posted at 9:38AM, 25 June 2010 PDT
****
Posted on Father's Day: Rabbi Cosgrove's Eulogy for My Father, Professor Albert Kritzer
Eulogy: Professor Albert Kritzer
Delivered by: Rabbi Elliot J. Cosgrove of Park Avenue Synagogue, 50 East 87th Street, New York, NY
Date: June 4, 2010
In the biblical tradition, certain figures stand a little bit bolder in our imagination, their stories more present in our lives as role models today and mirrors to our own existence – our challenges and our noble pursuits. Of all the Matriarchs and Patriarchs of the tradition, from Abraham and Sarah, to Moses, to Ruth and King David, perhaps more than any, set to great literature, Broadway musicals, art and otherwise is the figure of Joseph. Joseph, who began his life the grandchild of modest immigrants whose own father worked hard to arrive at his own success. It was Joseph, who came from a strong sense of Jewish identity and went on to share that identity with a broader community, Joseph, who had the right set of smarts, gumption or chutzpah to position himself at critical junctures for a life of achievement. He was able to take his knowledge and network and contribute to a much larger commercial and economic concerns. Joseph was a man who knew of great loss and darkness in his own life time, but had the wisdom and fortitude of spirit to emerge from the pit not with despair but by reinventing himself, living to see another day, to see light throughout.
As I had the honor of sitting with the family, to hear of the life and legacy of Albert Kritzer, it was this image of Joseph, of our Jewish hero, who rose up at every turn through his hard work and creativity to impact a global community – that came to mind. Albert Kritzer, a gifted mind, and driven spirit and a giving heart, throughout his life, at every pivot was able move forward with integrity, with creativity with love for family, with love for humanity, impacting a tremendous circle of family, friends and community.
Albert was born to Abe and Augusta in Brooklyn in 1928. The third of four children – he grew up surrounded by a loving family and siblings and cousins, a loving godmother. The child of immigrants who had established some success, he grew up in Brooklyn, Manhattan, and Oceanside. And no matter where he was – and this would be a theme throughout Albert's life, the combination of his natural gifts and personal ambition would enable him to press forward. There is a story of how as a young man he set to read every book in the town library – going through the authors alphabetically – arriving at "S". His academic achievements were well evident when he graduated at 16 – going onto William and Mary, and then to Cornell Law, always graduating with highest honors. In each of these moments – even as his abilities were well acknowledged, his synthetic mind and giving spirit taught him that knowledge was to be shared, his class notes were written onto carbon copy, distributed to his classmates as a study aid, both enabling him to organize his thoughts and his colleagues to succeed. Following WWII went to Europe to spend a semester , like his biblical predecessor, he knew how to seize on an opportunity, gaining audience with people in high places, establishing networks of connections through his charm and chutzpah. It wasn't all easy, Albert had to work hard to get through school, he paid his own way, everything from bussing tables, poker games, donating his own blood – all to make ends meet – but he found a way, the first part of his life, learning the skills that he would put to use. Throughout his life, Albert valued hard work, lived frugally, never in it for riches.
Albert served his county with distinction in Korean War coming back to join a Law firm. It would be during these years that he would meet his beloved life partner Jacqueline. She was a guide at the United Nations, cultured and versed in multiple languages. In his courting days, Albert would recite lines of poetry, knowing how to catch the heart of his affection. With Jacqueline, he recited Donne's "Come live with me, and be my love, and we will some new pleasures prove." And sure enough – she went on to finish the poem line for line with him and the rest as they say was history. The two of them would together raise their four children in this house of culture, of multiple languages and cultures, of Maman and Daddy, Grandmaman and Zaide, passionate partners in life.
Albert's professional work took the family from place to place, wanderers in the biblical tradition – the family would joke that some people go on vacation, the Kritzers just move. But in all this activity, certain things were constant, such as, a love of education, a love of books to be read to the daughters, and a premium placed on family time, with each child feeling a special relationship with their father. Albert knew of the Jewish tradition that the Sabbath was to be a taste of the world to come and every Saturday was a day devoted to spending sacred time with family. Each of you went on to get graduate degrees, all reflections of your father's love of learning. And to the grandchildren, his love was endless, each of you will, in the years ahead, have the gift of memory of a loving zaide, and more importantly will be able to use his model "do what Zaide did' as the bar for your own achievements, your own integrity.
But it was Albert's model; it was through his deeds not just his words. When his brother Walter passed away, he took on a fatherly role beyond his own brood to his brother's children. Perhaps most painfully, when his daughter Annette would die tragically in a car accident in 1986, Albert would have to face a terrible crossroads. And while no parent should ever know the horror of burying his own child, out of the darkness, he was able to reinvent himself in a purposeful way. His highest ideal was to be a scholar and he went from the business world to scholarship, leveraging his experience in the private sector towards establishing a hub of International Commercial Law. And while others in the days ahead will be better able to speak to his professional impact, it is my understanding that he was not just a fine scholar, but that he was a creator of a discipline, a builder of a department and a leader in his field. His greatest love was his students, the hundreds if not thousands of minds he shaped in decades of scholarship.
There are so many elements to the life of Albert Kritzer, so many points of view by which his achievements can be appreciated. He more than lived up to the calling of Micah, when asked "what does the lord require of you – to do justice, love kindness and walk humbly before your god". Albert more than lived according to his own bar of living each day creatively, sleeping well, and knowing of the good that has been done that day. His life was very much divided into idealized stages of the first third learning, the second third earning and the third giving back.
Indeed at this moment, mournful as we are, we are also grateful of the gift of Albert's life. With Albert's sudden passing, I was reminded that he shares the distinction with his biblical predecessor, Joseph, of having died in the land of Egypt, his death eventually leading to burial amongst his people. As death was nearing, as he realized his passing would take place in a foreign land, he instructed his children that his remains not remain there – v'ehelitem et atzmotai mizeh, you shall bring me up from here. And this is what his children did, and this is what Albert's family did. But the message of course is more profound. It was not so much Joseph's physical remains that were his concern, but his spiritual and personal legacy that should not be left untended, that should be brought up that should continue to lift up the life and hearts of his descendents. And so too with Professor Albert Kritzer for today we fulfill the commandment of giving him proper burial but in the days, week, months and years ahead – we have a much bigger commandment to fulfill: the commandment to let his memory bring us up from this dark place. Just as he did in his lifetime, we must see the light from the darkness, remember our god given gift of daily creativity and build a life worthy of the highest ideals of Albert Kritzer. For in doing so, we shall make his memory a blessing.
****
Obituary for Professor Albert H. Kritzer, As Featured in the Westchester County Gannett Newspaper "The Journal News" on Saturday June 19, 2010
KRITZER, PROFESSOR ALBERT H. 2010-06-19
1928 - 2010 Albert H. Kritzer, Executive Secretary of the Institute of International Commercial Law and adjunct professor at Pace Law School, White Plains, NY, and a 34-year resident of Darien, CT, passed away unexpectedly on June 1, 2010 in Egypt, where he was traveling to receive a 2010 Career Achievement Award at the 4th Arab Conference for Commercial and Maritime Law. A funeral led by Rabbi Elliot Cosgrove was held at Riverside Memorial Chapel, NYC on June 4, followed by interment at Mount Lebanon Cemetery, Glendale, NY. An informal gathering to celebrate the life and work of Albert Kritzer was held at the Institute of International Commercial Law on June 5. Additional memorial services are being planned by Pace, with more information to be provided at the Pace website. Born April 21, 1928 in Brooklyn, NY, Albert Kritzer was the son of immigrants Abraham and Augusta Kritzer. He married Jacqueline Landry Hubert in 1957, and together they raised four daughters. He is survived by two sisters: Marilyn Shorenstein of Boca Raton, FL and Ruth Rhetts (Mrs. George) of Naples, FL, three daughters: Germaine Koomen (Mrs. William) of Newburyport, MA, Lise Marie Gander (Mrs. Stuart) of Milton, VT, and Rachelle Kritzer Filipek (Mrs. Stephan) of Hastings-on-Hudson, NY, seven grandchildren: Emily and Elise Koomen, Everett and Celeste Gander, Claire, Matthew and Brian Filipek, and numerous beloved nieces and nephews. He was predeceased by spouse of 46 years Jacqueline Kritzer, daughter Annette Kritzer in whose memory he dedicated his scholarly work, brother Walter Kritzer, brotherin-law Joel Shorenstein, and sister-in-law Sylvia Kritzer Baumwald. After graduating from the College of William and Mary in 1948 with a BA in Economics, Kritzer earned a JD with distinction (Phi Kappa Phi, Order of the Coif) at Cornell Law School in 1951. He was admitted to the New York Bar (1952) and Bar of the US Supreme Court (1955) and began his legal practice as a Judge Advocate, serving the US Air Force in Japan after the Korean War. He practiced law with Donovan, Leisure, Newton & Irvine in NYC then, in a span stretching 25 years, he was counsel to General Electric, including several positions in Major Appliances and International Sales Operations. In 1991 Kritzer joined Pace Law School, founding the Pace Institute of International Commercial Law. Internationally recognized as an authority on the United Nations Convention on Contracts for the International Sale of Goods (CISG) and a leading figure in the harmonization of global commercial law, Albert Kritzer earned accolades such as, "You have done more for the success of the Convention, and more to create the infrastructure for a revolution in commercial legal practice, than anyone in the world" (words by law professor, author and CISG expert, Harry Flechtner). Kritzer wrote the multi-volume International Contract Manual, first published in the early 1990s. He developed a unique online database of interpretations of the CISG of over 2500 international contract court decisions and arbitration rulings representing 74 countries and taught courses on the CISG. He was devoted to helping students and engaging them in international contract law. In 1993, he co-founded two prestigious annual student competitions held in Vienna to train future leaders in dispute resolution: the Willem C. Vis International Commercial Arbitration Moot and the Clive M. Schmitthoff Student Essay Competition. Kritzer received the 1998 Award for Distinction in International Affairs from the New York Bar Association, and the International Association of Law Libraries recognized the CISG website with its first annual award for non-commercial pursuits in 2002. In 2008, the Festschrift "Sharing International Commercial Law across National Boundaries" was published in honor of Albert Kritzer on the occasion of his eightieth birthday. A generous, warm-hearted, energetic, inspiring, much-beloved visionary scholar devoted to facilitating increased understanding, peace, and justice, Albert Kritzer created communities wherever he went and left a legacy of many projects in progress. He will be sadly missed by family members and an international network of students, colleagues and friends. Letters of condolence have poured in from all corners. To quote one of them: "The law community lost a great master, and the world lost a great human." Memorial contributions in his honor may be made to the following: Annette Kritzer Scholarship Fund, c/o St. John's Roman Catholic Church, St John's Outreach Scholarship Fund for Annette Kritzer, 1986 Post Road, Darien, Connecticut 06820 (Please make check out to the Church); or Pace Law School Institute of International Commercial Law (L6747), c/o Pace University, Office of Philanthropy, One Pace Plaza New York, New York 10038 (Please make check out to Pace University)