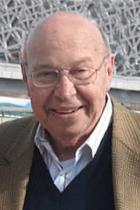 Born April 21, 1921 in Brooklyn, New York, Albert Kritzer was the son of immigrants Abraham and Augusta Kritzer. Her married Jacqueline Landry Hubert in 1957, and together they raised four daughters. He is survived by two sisters: Marilyn Shorenstein and Ruth Rhetts, three daughters: Germaine Koomen, Lisa Marie Gander, and Rachelle Kritzer Filipek and seven grandchildren: Emily and Elise Koomen, Everett and Celeste Gander, Claire, Matthew and Brian Filipek, and numerous beloved nieces and nephews. He was predeceased by spouse of 46 years Jacqueline Kritzer, daughter Annette Kritzer in whose memory he dedicated his scholarly work, brother Walter Kritzer, brother-in-law Joel Shorenstein, and sister-in-law Sylvia Kritzer Baumwald. After graduating from the College of William and Mary in 1948 with an AB in Economics, Krtizer earned a JD with distinction (Phi Kappa Phi, Order of the Coif) at Cornell Law School in 1951. He was admitted to the New York Bar (1952) and Bar of the United States Supreme Court (1955) and began his legal practice as a Judge Advocate, serving the US Air force in Japan after the Korean War. He practiced law with Donovan, Leisure Newton & Irvine in NYC and then, in a span stretching 25 years, was counsel to General Electric, including several positions in Major Appliances and International Sales Operations. In 1991 Kritzer joined Pace Law School, founding the Pace Institute of International Commercial Law.
Internationally recognized as an authority on the United Nations Convention on Contracts for the International Sale of Goods (CISG) and a leading figure in the harmonization of global commercial law, Albert Kritzer earned accolades such as "You have done more for the success of the Convention, and more to create the infrastructure for a revolution in commercial legal practice, than anyone in the world" (words by law professor, author and CISG expert, Harry Flechtner). Kritzer wrote the multi-vlume "International Contract Manual", first published in the early 1990s. He developed a unique online database of interpretations of the CISG of over 2,500 international contract court decisions and arbitral rulings representing 74 countries and taught courses on the CISG. He was devoted to helping students and engaging them in international contract law.
In 1993, he co-founded two prestigious annual student competitions to train future leaders in dispute resolution: the Willem C. Vis International Commercial Arbitration Moot and the Clive M. Schmitthoff Student Essay Competition. Kritzer received the 1998 Award for Distinction in International Affairs from the New York State Bar Association, and the International Association of Law Libraries recognized the CISG Database with the first annual award for non-commercial pusuits in 2002. In 2008, the Festschrift "Sharing International Commercial Law across National Boundaries" was published in honor of Albert Kritzer on the occasion of his eigthieth birthday.
A generous, warm-hearted, energetic, inspiring, much-beloved visionary scholar devoted to facilitating increased understanding, peace and justice, Albert Kritzer created communities wherever he went and left a legacy of many projects in progress. He will be sadly missed by family members and an international network of students, colleagues and friends. Letters of condolence poured in from all corners. To quote one of them: "The law community lost a great master, and the world lost a great human."
For more information on Albert Kritzer's work and legacy see, Marie Stefanini Newman, Albert Kritzer: Pioneer of Open Access to International Private Law, in Sharing International Law Across National Boundaries 361 (Camilla B. Andersen & Ulrich G. Schroeter eds., 2008).
Commentaries and Notes on the CISG by Albert H. Kritzer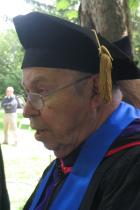 List of all CISG commentaries